Forthcoming classes
Click below
Forthcoming events
Click below
Latest news
Tango in Bristol
Tango West's 20th year
Classes every Wednesday
New beginners always welcome


Regular drop in lessons:
Beginners/Recent Dancers class
6.30 - 7.45pm £8
Practice time till 8.30pm
Click

here

for Map
Redland Club
BS6 6TN
Click here for our Milonga dates for 2018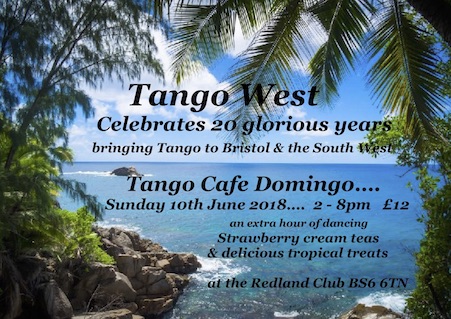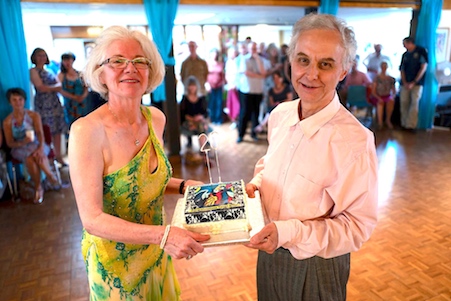 image by Ian Cox
That was such a special event for us; totally heart warming to be in receipt of such goodwill and support. It makes it all so worth while. A special thanks to Pauline, Cake Mistress Extraordinaire. Michele and Biagio for all their work behind the scenes. And to Biagio and Oscar for their impromptu and spirited live performance. Last but not least to you all - from old timers to the newer faces, for making such a great Tango scene possible. Thank you
______________________________



WEDNESDAY - MILONGUITA

Wednesday 27th June 2018
8 - 10.30pm £5


Our monthly Wednesday Celebratory Milonguita. A relaxed, informal gathering of Tangueros with Birthday Celebrations as a theme. Cake.....and of course Tango Vals. Biagio will be playing a set for us of course.
Preceded by Beginners & Recent Dancers lesson 6.30 - 7.45pm

5 good reasons to learn Tango in Bristol:
Come along and have fun

Meet new friends
Enjoy the music and the dance
Learn a new social skill
Improve health and fittness
For more information about
classes click here
In our lessons we cover tango movement technique; posture, balance and axis; connection in the embrace: musicality; tango floorcraft and etiquette. Fun, friendly and structured classes in Bristol with instructors Michele and Andrew.
______________________________________

Michele and Andrew demonstrate a simple social style of Argentine Tango - the kind of thing you might find in the traditional clubs of Buenos Aires
Tango West, established 20 years ago, was instrumental in bringing Tango to Bristol and the surrounding area. It is run by Andrew Oldroyd and Michele Tedder. Over the years we've held thousands of classes and DJ'd at over 400 social dances and events. Tango West is the place to come to learn and dance Argentine Tango. We are dedicated to promoting Traditional Tango
Milongas at the Redland Club in Bristol