Lessons : Beginners & Recent Dancers
Argentinian Tango Classes every Wednesday with instructors Michele and Andrew.

New Beginners always welcome

Where:
At The Redland Club, Burlington Rd. Bristol BS6 6TN

class starts at 6.30-7.45pm plus practice session till 8.30pm

Price £8 per class inclusive of free practice at the end
Special Offer: £40 for a block of six classes booked in advance


Click here for Map to Redland Club BS6 6TN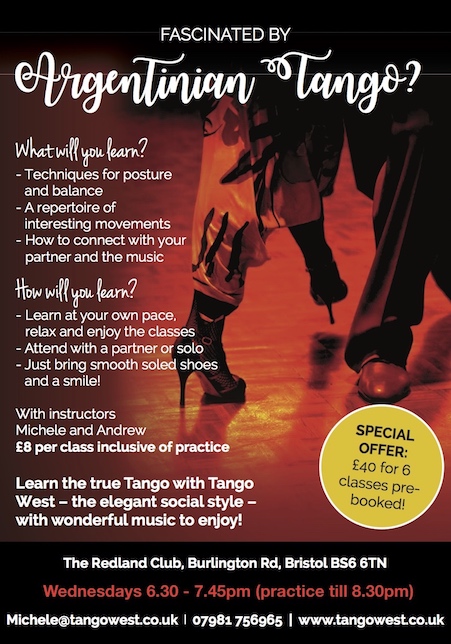 Five Good reasons to learn Tango:

come along and have fun,
meet new friends,
learn a new social skill
enjoy the music as well as the dance
become healthier and fitter with the pleasure of dancing!

How it works:
In these classes we focus on the fundamentals of Tango as well as adding in new concepts for those students who have already taken some classes with us.

It's fine to drop in though better to commit to a series of classes if you can. That's so you can learn the basics, make regular progress and develop your skills.

Michele and Andrew provide expert instruction based on many years experience of the music and the dance!

There's no need to bring a partner - it's fine to come solo; please wear smooth soled shoes suitable for dancing.